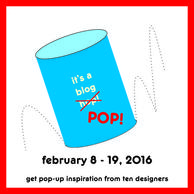 Starting today, ten designers will be giving you some pop-up inspiration to add some "pop" to the month of February!!
The Blog Pop runs from February 8- February 19th. Follow along as we add our own flair to the Fat Quarter Gypsy's Pop-ups! Click on the logo at left to get the schedule and links to each designer!
Poorhouse Quilt Designs will be blogging on February 18th – drop by!
Prizes? Yes – get to the blog of the day to find out how to win! There is a Grand Prize also. Click here or on the logo above and scroll to the bottom of the page to enter the awesome  giveaway! Now…get popping!
-Kris